Computational Multiscale Strategies for Materials and Environment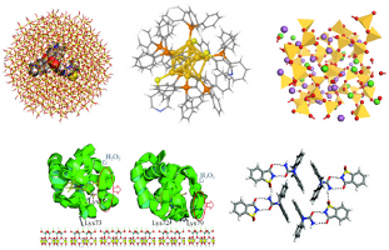 The main research activity is related to development and application of computational multiscale strategies to investigate physico-chemical and mechanical properties of materials that find a wide range of application in medicine, engineering, pharmaceutical, nanotechnology, electronic and phovoltaic industries as well as geological and environment sciences.
The domain of competence of our group includes:
Density Functional Theory (DFT) and Time-Dependent DFT
Response Theory
Car-Parrinello Molecular Dynamics Simulations
Development of accurate Force-Field parameters
Molecular Mechanics and Classical Molecular Dynamics Simulations.
Hybrid QM/QM' and QM/MM methods
Optical and Magnetic Computational Spectroscopy
Finite Element Method (FEM)
The research topics that we are currently investigating cover:
Oxide Glasses and metal-oxide crystals for environmental, biomedical and electronic applications
Metal-organic and silica-based nanoparticles for nanomedicine, photonic and sensing applications
Organic molecular crystals and metal-organic co-crystals for pharmaceutical, agrochemical pigments, dyes and electronic applications 
Water/ice interaction with inorganic coating for energy application
Bio-inorganic interphases for nano-biotechnology applications 
Surfaces and surface reactions
Homogeneous and heterogeneous catalysis
Researchers: Bortolotti, Faglioni, Malavasi, Montorsi, Menziani, Pedone.